How to Upload?
There are several ways to submit your graphics so they can be printed on fabric from us:
o Stoff-Designer (JPG or PNG; max. 4MB; always automatically transformed into 250dpi resolution)
You upload a pattern through the fabric designer tool. This one will always be optimized for a resolution of 250dpi. On a standard monitor (72dpi) you have an appropriate measurement on the side in cm-size proportions. As it is shown on a standard monitor is will be printed later on 1:1! In the detail view you have a "Zoom" where you can read the exact size of the uploaded file.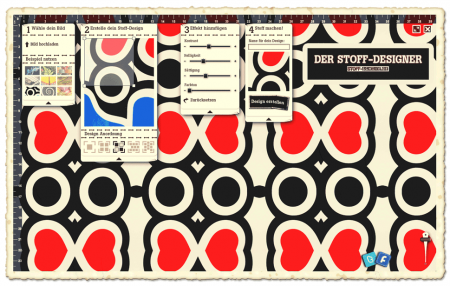 ---
o The manually upload (JPG or PNG;max. 25MB; in every resolution)
With the link to "Design Upload" (appears as a registered user in the nav bar) you can direct upload designs into your private design gallery. Here you have the option of larger and lower in resolution.
---
o Via Wetransfer! (JPG / PNG; max. 2GB; in every resolution)
Larger files are possible via our favorite web service Wetransfer (2GB free). Ordering like this:
1. First upload a small preview image of the huge print design in your gallery.
2. Second order your appropriate quality, design arrangement and quantity of material with this preview file.
3. Third give us an order comment with a reference to wetransfer.
AFTERWARDS upload your original print data including your order number. We will print it right away as sent to us.